OMG: 20 Years in the Making
| OMG: 20 Years in the Making | OMG Community of Practice | OMG Liaison | OMG Standards | OMG Certification Programs | OMG Members |


Since inception more than twenty years ago, OMG has proven its ability to chart its course in line with movements of the business needs of Information Technology and remain a leading force in this growth industry.
As we look back on our charted waters so far, we see that IT has made a series of shifts towards a closer relationship with strategic business alignment and has moved up the corporate ladder in terms of leadership and design. OMG has mimicked this trend in all our programs and standards development efforts and continues this course going forward.
OMG began its journey in the late 1980's as personal computing was revolutionizing the way IT interacted with the business. Computer networks and networked storage, workgroup mail and object oriented development were making their debuts into the common business market. It was during this period that OMG set its sights on supporting this industry direction through our standards work on interoperable code and objects. Our early work on a standard interface definition language (IDL™) with widespread support would change the way development occurred from that point forward.
The industry direction towards client / server design prompted IT and business leaders to take a serious look at how users could more intelligently interact with their computing resources. Businesses demanded closer interaction between their applications and faster delivery of new services. E-mail became more commonplace. To support these demands, object oriented development became more serious and new requirements on how to make these applications "enterprise-ready" became increasingly important. OMG supported this natural progression through our interoperable platform work: CORBA® for distributed object computing and UML® for modeling. This standards work played an instrumental role in the consolidation of middleware technologies and interoperable infrastructure services.
Nearing the turn of the century, businesses were ready to focus their computing applications to closer mimic their unique market space. They looked for IT to drive them towards solutions specific to their own vertical market. OMG took to applying its rapid, neutral, worldwide standardization process to a vertical focus, starting with telecommunications. Today some 85% of OMG standardization activities are focused on some two-dozen vertical markets (healthcare, finance, telecommunications, manufacturing, life sciences, government, military command control, etc.).
At this same time the business market was rapidly changing from a brick and mortar storefront mentality to an environment where the Internet would serve as both an Intranet backbone for computing operations and as a new way to deliver services to customers.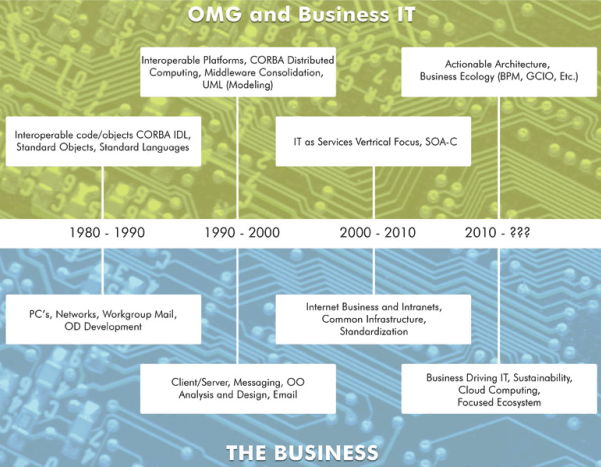 Our standards work supported this as OMG's vertical-market focus made for a strong transition point to base all new standardization efforts on our Model Driven Architecture® (MDA®) initiative. The vision of a world where modeling, in a standardized way, would provide for a higher level of transparency for the business drove our programs, initiated by the UML standard, Meta Object Facility (MOF™), other core modeling standards, and joined by modeling languages focused on specific application domains (all brought together by a common metamodel).

Business rules standards became increasingly important and OMG membership saw a need to capture business operations, processes and services to the benefit of business and IT analysts. Recognizing that an underlying strength of OMG was always in bringing communities together and creating excitement for industry directions, we expanded beyond a focus of pure standards work and into an environment for measuring maturity and collaborating for solutions to business and IT issues.




Last updated on 05/21/2012