The spread of
COVID-19
has made it too risky for our members and guests to travel to this meeting.  As a result, this event will be postponed to June 23, 2020, in Orlando, FL.  Please see
this page
to register. We regret any inconvenience this has caused.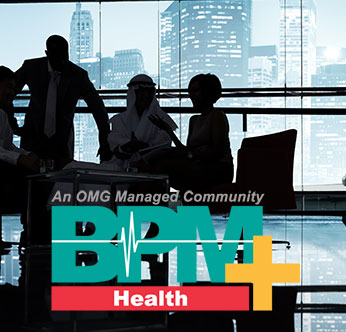 DATE: Tuesday, March 24, 2020
TIME: 2:00 pm - 6:00 pm
PLACE:Hyatt Regency Town Center, Reston, VA (hotel info)
COST: $99 (registration required)
CONTACT: info@omg.org

Gold Sponosor:


Silver Sponosor:


BPM+ Health JUMPSTART SESSION
Whether you are completely new to BPM+ Health or are looking for a deeper understanding, the BPM+ Jumpstart session provides a means for you to round out your knowledge and become better educated about the foundations of the effort.
BPM+ Health is an initiative to allow for the documentation of care pathways and workflows to allow them to be effectively shared across organizational and product boundaries. Building on core open standards comprising languages such as Business Process Model and Notation™ (BPMN™), Case Management Model and Notation™ (CMMN™), and Decision Model and Notation™ (DMN™), this community has developed a "Field Guide to Shareable Clinical Pathways" that brings interoperability to care collaboration and workflow. The Jumpstart session provides the basics to understanding BPM+, including a primer on the core languages, an overview of the Field Guide, the rationale and business value of the initiative, and exemplars of care pathways that have been refactored using this approach. It is the perfect way to "come up to speed" on BPM+.
This session will help attendees to understand and read BPM+ compliant care pathways, to learn the basics to develop their own models during a hand-on modeling workshop, and to provide the context to more effectively engage with peers within the community. This session is recommended for newcomers to the BPM+ Health community as foundational BPM+ knowledge will only be covered on a limited basis in the Workshop. The BPM+ Health Workshop content assumes a basic understanding of the BPM+ community and underlying standards and core artifacts. New community members or interested parties that do not have this background are strongly encouraged to attend the BPM+ Jumpstart, which was designed specifically as an "on-ramp" to help acclimate attendees to the community.
Topics covered in the Jumpstart include:
Introduction to BPM+ Health
Primer on BPMN, CMMN, and DMN Modeling Languages
Overview of the Field Guide to Sharable Clinical Pathways
Review and Walkthrough of sample BPM-based Clinical Practice Guidelines with using BPMN tools

Evening reception post-event sponsored by MAXIMUS Federal
While prior modeling knowledge is helpful, it is not required to attend the Jumpstart. Come see why clinical professional societies, healthcare organizations, and the vendor community are engaging in this new effort! Attendance is $99 for interested parties, or just $50 when added to the BPM+ Health Industry Workshop on the following two days, March 25 - 26, 2020. BPM+ Health members with paid organizational memberships are welcome to attend the BPM+ Jumpstart at no cost. OMG Members attending the full TC week are also free to attend.

Register for Jumpstart only BPM+ Workshop Info

---
Industry Supporters
Founding Members