The spread of
COVID-19
has made it too risky for our members and guests to travel to this meeting.  As a result, this event will be postponed to June 24-25, 2020, in Orlando, FL
this page
to register. We regret any inconvenience this has caused.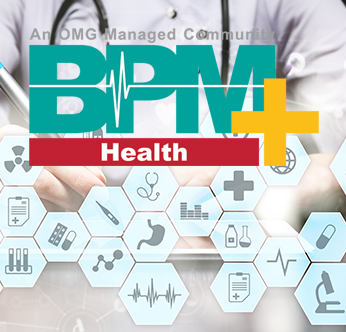 DATE: Wednesday & Thursday, March 25 - 26, 2020
TIME: 9:00 am - 5:00 pm
PLACE: Hyatt Regency, Reston, VA, USA (hotel info)
COST: $249 (registration required)
JUMPSTART: BPM+ Jumpstart optional add-on Tuesday, March 24, 2020
CONTACT: info@omg.org

Business Process Management for Healthcare (BPM+ Health) Industry Workshop
Clinical healthcare providers have been challenged to leverage and disseminate evidence-based best practices at the point of care and serve an increasingly mobile patient population as it navigates among sites and institutions of care.
BPM+ Health™ is addressing these concerns head-on by establishing a community of practice based upon the use of open, standards-based notations (brought together under the umbrella of a style guide) which allows for all types of health organizations, professional societies, and vendors to document their care pathways and workflows so that they are shareable, discoverable, and in the future can be computer-consumable (computable). This approach results in guidelines that have been demonstrated to be more accurately expressed, more internally consistent, and more consumable than paper or pdf-style counterparts.
BPM+ Health goals:
Develop best practices around modeling and sharing clinical pathways, clinical guidelines, and other healthcare knowledge;
Promote the use of standards such as BPMN, DMN, and CMMN to produce deliverables to maximize their usefulness and shareability and to promote their adoption;
Cultivate a knowledge ecosystem devoted to improving national and international health by leveraging open and available industry standards to remove barriers to sharing knowledge;
Improve the precision and compliance with best practices, resulting in better implementations;
Seek collaboration with other standards developing organizations in the Healthcare industry.
This two-day event will feature several activities, including:
Tuesday night welcome reception sponsored by MAXIMUS
Role of BPM+ in clinical quality improvement
Presentations discussing findings from early trials using guidelines based on BPM+ standards
Adoption approaches about how to leverage BPM+ content in clinical systems
Launching BPM+ initiatives within your organization and the business case for doing so
Establishment of working groups within the community-of-practice to share experiences and priorities with peer organizations
Invited speakers are from the American College of Surgeons, HL7, the US Department of Veterans Affairs, Regenstrief Institute, Mayo Clinic, and healthcare and technology vendors. Please join us in Reston, Virginia for this exciting event. Agenda below.
Optional Jumpstart/Overview of BPM+ Health and how it is used (Tuesday afternoon from 2:00 pm - 6:00 pm) The BPM+ Health Workshop content assumes a basic understanding of the BPM+ community and underlying standards and core artifacts. New community members or interested parties that do not have this background are strongly encouraged to attend the BPM+ Jumpstart, which was designed specifically as an "on-ramp" to help acclimate attendees to the community. Jumpstart add-on is $50. BPM+ Health members with paid organizational memberships are welcome to attend the BPM+ Jumpstart at no cost. OMG Members attending the full TC week are also free to attend.
Preliminary AGENDA
workshop - day ONE
time
workshop - day one
9:00 am - 9:15 am
Welcome and Community Overview
Ken Rubin, Director of Standards; Veterans Health Administration, Acting Convener, BPM+ Health Community
9:15 am - 10:00 am
Keynote - HL7 and BPM+ Health: Building Blocks for the Future
Charles (Chuck) Jaffe, MD, PhD, FACP, CEO, Health Level 7 International
10:00 am - 10:30 am
A View From Industry: Why BPM+ Health Matters
Jennifer Eaton, MD, MPH, FACOEM, Vice President Clinical Services, MAXIMUS Federal
10:30 am - 10:45 am
Refreshment Break
10:45 am - 11:15 am
Moving Professional Organizations to Curate Knowledge in the Coming Age of ML and AI: Experiences from the American College of Surgeons
Frank Opelka, MD, FACS
11:15 am - 11:45 am
Using Semantic DMN to Represent the Logic for Cognitive Support Tools
Jane Shellum, Section Head, Knowledge Management and Delivery Program, Mayo Clinic
11:45 am - Noon

Workshop Breakout Session "Navigator"
An overview of the BPM+ Health Working Groups in preparation for the afternoon breakout sessions.

Authoring Working Group - Professional healthcare societies, practitioners from clinical specialties, and subject matter experts that are interested in creating new or translating existing narrative documents into computer-consumable artifacts join the Authoring Working Group. This group is focused on writing / distributing content, e.g.: Health practice patterns, Care pathways, Clinical practice guidelines, Workflows.

Implementer Working Group - EHR/EMR vendors, software and application vendors, application developers, open source implementers, and members interested in realizing clinical pathways in executable software join the Implementer Working Group. This group is focused on approaches for IT/Software implementation of BPM+, e.g.: Implementation strategies and approaches Ingesting and use of computable workflows Integration between HIT data and workflows

Institutional Adoption Working Group -Healthcare provider and payer organizations, including health systems, academic medical centers, and group practices join the Institutional Adoption Working Group. These members are consumers of care pathways and guidelines and are adopting them for implementation within their care institutions. This group is centered on how to bring pathways into institutional use, e.g.: How to adopt them, How to configure them, Change management.

Methodology Working Group - Professional modelers, consultants, and BPM+ tool vendors join the Methodology Work Group. This group applies core standards to meet the needs of the healthcare vertical, specifically: Refining and revising the "Field Guide" document, Liaison activities with the SDO community, Cataloging, documenting and advising on best practices, Maintaining an authoritative set of BPM+ guidance.

Academic and Professional Education Working Group - Healthcare organizations' Clinical Documentation Improvement (CDI) professionals, organizations' informatics and analytics staff, academicians, vendors' business analysts, and standards developers join the Academic and Professional Education Working Group. This group will: Assess best practices for professional development, vocational and academic education in standards-based HIT including the use of BPM+ standards, Develop curriculum and content for educational modules on computable clinical pathways development and adoption, Develop tutorials and materials for educational webinars, presentations, and online training ,"Train the trainers" to use and deliver these materials in academic courses, vocational training, and conferences.

Noon - 1:30 pm
Lunch
1:30 pm - 2:45 pm
Community Breakout Session I (Parallel Tracks)
BPM+ Health Working Groups interactive sessions
2:45 pm - 3:15 pm
Refreshment Break
3:15 pm - 4:45 pm
Community Breakout Session II (Parallel Tracks)
BPM+ Health Working Groups interactive sessions

5:00 pm - 5:30 pm
Day one-wrap up: Impromptu Panel
6:00 pm - 8:00 pm
OMG Networking Reception
---
workshop - day two
time
workshop - day two
9:00 am - 9:45 am
Opening Keynote
Theresa Cullen, MD, MS, FAMIA, Research Scientist, Clem McDonald Center for Biomedical Informatics, Regenstrief Institute;
Associate Director, Global Health Informatics Program, Regenstrief Institute
Interim Director, Strategic Planning and Communications, LOINC
Associate Professor of Clinical Family Medicine, Indiana Univ. School of Medicine
9:30 am - 10:00 am

Advancing Evidence-based Care from "paper" to Practice: The role of HIT Standards and BPM+ Health
Ken Rubin, Director of Standards, [US] Veterans Health Administration; Standards Workgroup Chair, AHRQ Evidence-based Care Transformation Services

10:00 am - 10:15 am
Refreshment Break
10:15 am - 12:00pm

Clinical Pathway Implementation Showcase
Sessions will feature exemplary implementations of BPM+ and interoperable clinical workflow solutions, projects, and products.

Shareable Clinical Pathways in Radiation Oncology Using BPMN and DMN
Oregon Health & Science University and Quantek Systems

Diagnosing and Treating Pulmonary Embolus using the OMG's Business Process Modeling Standards and HL7 FHIR
Intermountain Healthcare

Novel Coronavirus (COVID-19): Combining Predictive Models (PMML) and Clinical Quality Measures (CQL) with BPM+ Models
Trisotech

Teaching BPM+ Interoperable Clinical Workflow Standards through Modeling Tools
Visible Systems Corporation and Tufts University

Veteran Care without Boundaries
Perspecta

BPM+ in Action with EvidenceCare and Cerner
EvidenceCare


12:00 pm - 1:00 pm
Lunch
1:00 pm - 3:00 pm
Community Breakout Session III (Parallel Tracks)
BPM+ Health Working Groups interactive sessions
3:00 pm - 3:30 pm
Adjourn
3:30 pm - 4:45 pm
Post-Event: Community Governance Worksession (BPM+ Health Members Only)
Interactive Work Sessions discussing governance, bylaws, operations, community roles, elections, etc.
---
Industry Supporters