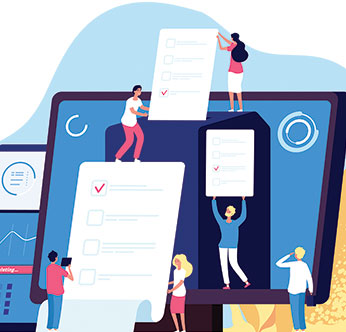 DATE: Tuesday, December 10, 2019
TIME: 1:30 pm - 5:30 pm
PLACE:Hyatt Regency Long Beach Hotel, 200 S Pine Ave., Long Beach, CA 90802 (hotel info)
COST: Complimentary (Registration Required)
CONTACT: info@omg.org
This half-day workshop examines how best practices for applying distributed ledger technology (DLT) to transactions record keeping in government can be applied to durable records management in election administration including trustworthy digital voting. This work will produce use cases of distributed ledger technology first for voter registration management. However, other use cases of DLT in elections and voting are welcome.

This Workshop will build the foundation for future Working Group(s) activities and follow-on workshops in support of developing standards for the use of distributed digital ledger technology (DLT) in the many processes of election administration. And that will include, as technology advances, the processes of casting and counting ballots.

As a first step, attendees will derive a small set of basic best practices for applying DLT to durable government transactional records administration. This is intended to establish agreed-to basic principles of: public vs. private, open vs. closed, and permissioned vs. permission-less ledgers. To facilitate this the Workshop will hear from experts in both general-purpose Blockchain applications as well as the nuances of election administration.

The balance of the Workshop will focus on developing specific use-cases, initially on voter registration management—a critical aspect of election security. An expert in election cybersecurity will explain to the Workshop the problem space including the Intelligence Community threat assessment and the Department of Homeland Security perspective. Beyond the actionable, relevant, and timely issue of securing voter records, there will be opportunity to develop use cases for other aspects of election administration including ballot casting and counting.
The desired outcomes are threefold:
developing use cases that Working Groups can further develop and expand upon in lead-up to the next major Workshop
developing objectives for each Working Group
achieving a top priority use case for the application of DLT to voter registration records, which can result in standing up a test-bed to demonstrate data formats and protocols interoperability that prove out the feasibility for election officials to apply DLT to protecting their voter registration systems, with ideally, 2020 pilots in several states.
Please join us in Long Beach to take part in the hands-on workshop.
agenda
time
workshop
1:30 pm - 1:45 pm
Welcome and Agenda Review
John Sebes, Open Source Election Technology (OSET) Institute

1:45 pm - 2:15 pm
Digital Ledger Basics and Terminology
Mathew Yarger, IOTA Foundation

2:15 pm - 2:45 pm
Voter Registration Process Overview
2:45 pm - 3:00 pm
Refreshment Break
3:00 pm - 3:30 pm
Common Implementation Issues
Marc Schneider, MITRE
3:30 pm - 4:00 pm
Group discussion of candidate use cases

4:00 pm - 5:00 pm
Selection of use cases for initial iteration, participants' sign-ups for work on use cases.
5:00 pm - 5:30 pm
Review, Next, Steps, and Formation of an Industry Working Group on election DLT issues.
Presented in partnership with the OSET Institute:

Image Licensing: It is the responsibility of all presenters who speak on behalf of OMG and its programs or at events hosted by OMG or its programs to ensure that images, graphics, videos and logos are properly attributed and licensed. Any fines incurred by OMG or its programs due to non-compliance of proper image licensing will be charged back to the presenter and his/her organization.