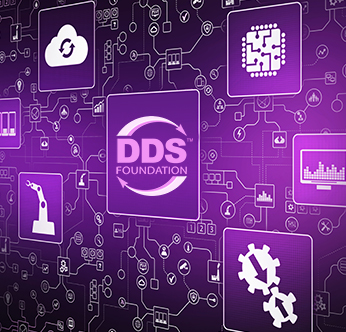 DATE: Wednesday, March 20, 2019
TIME: 2:00 pm - 5:30 pm
PLACE: Hyatt Regency Town Center, Reston, VA (Washington, DC area) (hotel info)
COST: Complimentary Afternoon Session (registration required)
CONTACT: info@omg.org

DDS in the Real World
The DDS Foundation brings together a community of technology companies, end users, developers and IIoT industry influencers to fulfill the mission for innovation and insight into the future of the OMG Data-Distribution Service™ (DDS™) standard.
The work of the Foundation centers on user case libraries, education initiatives, conformance/interoperability testing, and industry data repository models that advance awareness of the standard's use in high performance, highly-scalable Industrial Internet of Things (IoT) and large-scale Consumer IoT applications.
That's why its inaugural event, DDS in the Real World, will feature customers and case studies, with a particular focus on the standard's role in IIoT, robotics and defense. There will be an evening reception after the event. Attendees are welcome to network with the speakers, Foundation leadership and DDS vendors to continue the conversation and discuss next steps.

AGENDA
time
presentation
2:00pm - 2:20pm
Introduction and Welcome - Object Management Group and the DDS Foundation - View PDF
Nick Stavros, CEO Jackrabbit Consulting; VP Technology, DDS Foundation

2:20pm - 2:50pm
Using DDS for Dynamic Systems - View PDF
Lance Gwennap, Chief Engineer, Raytheon

Real-time mission-critical systems require the highest levels of performance, scalability, reliability and security. At the same time, they must employ a modular open systems architecture to minimize integration, maintenance and upgrade costs; foster reuse; and enable rapid reconfiguration to meet evolving mission requirements. For these reasons, DDS is the connectivity standard for mission-critical connectivity. In this session, Lance Gwennap, Chief Engineer of Raytheon, will discuss how DDS is used to transmit secure real-time communications in a common control station for unmanned vehicles. He will discuss the discovery patterns that allow for the configuration to change for each vehicle, and how domains and partitions separate the software for different vehicles. Lance will describe how publish/subscribe works to decouple services in unmanned vehicles. He will also address how to separate flight critical data using a "router" and DDS Secure.

2:50pm - 3:20pm
DDS Makes Robots Come Alive - View PDF
Joe Speed, CTO, ADLINK IoT Solutions & Technology

The adoption of DDS continues to grow in verticals outside the Aerospace and Defense market where it is prominent for its mission-critical performance. The goal of this presentation is for the audience to learn about the impact DDS is having in the robotics industry by providing data-connectivity for business critical IoT systems, looking from the end user perspective. We will look specifically into the emergence of DDS as the recommended solution in Robotics - Robotics Operating System v2 (ROS2) and what benefits this migration of DDS with ROS2 can bring to the community and robotics start-ups. We will look into the concept of how DDS in Robotics can allow sensor fusion at the Edge (e.g. smart cameras) which can leverage the power of ROS2 to deliver systems which can interact and be aware of one another.
3:20pm - 3:40pm
Refreshment Break
3:40pm - 4:10pm
Designing Flexible, Secure, and Efficient IoT Applications with DDS - View PDF
Steve Totten, Partner, Object Computing, Inc. (OCI)

IoT applications integrate edge devices, cloud services, and mobile applications. This talk will describe a system designed for smart locks that uses DDS to ensure efficient and flexible device-to-device, device-to-cloud, and device-to-mobile communications. This system uses DDS as the distributed application framework for device management and configuration, firmware distribution, and data collection. Key to the solution is DDS Security, which is used to provide secure communications over the public Internet and to control access by users, devices, and administrators.
4:10pm - 5:10pm
Panel Discussion - DDS in the Real World

Moderator: Nick Stavros, CEO Jackrabbit Consulting; VP Technology, DDS Foundation
Panelists:
Matt Grubis, Chief Engineer, GE Healthcare; VP Applications, DDS Foundation
Gerardo Pardo-Castellote, CTO, RTI; DDS SIG co-chair; OMG Board of Directors
Erik Hendriks, Technical Lead, ADLink; DDS SIG co-chair
Adam Mitz, Principal Software Engineer, OCI; Director of Interoperability; DDS Foundation

Technical experts will discuss the DDS standard, security in DDS environments, interoperability with other systems, industry applications and what's ahead. This will include audience Q&A.
5:10pm - 5:30pm
DDS Foundation Launch
Nick Stavros, CEO Jackrabbit Consulting; VP Technology, DDS Foundation

6:00pm - 8:00pm
OMG Networking Reception
Continue the conversation over appetizers and drinks at the OMG Networking reception

---