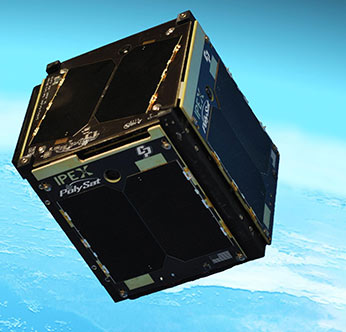 DATE: Monday, March 18, 2019
TIME: 1:00 pm - 5:00 pm
PLACE: Hyatt Regency Town Center, Reston, VA (Washington, DC area) (hotel info)
COST: Complimentary Afternoon Session (registration required)
CONTACT: info@omg.org

Space Specs - The cubesat revolution
Operation centers for government-owned satellites are consolidating into fleet management to reduce the long-term operations costs. New commercial entities are launching satellite fleets or constellations as the cost of access to space has dropped. These two trends are creating the space-based enterprise, with a focus on creating greater value from space assets, through rapid adoption of new technology.
The space industry, whether working with the government or on new commercial projects, needs technical standards to enable innovations while reducing associated costs, schedules and risks. An industry that once moved to the cadence of government projects – where innovation was measured in years – is now looking more like a start-up industry in need of the insights and experience of experts in government, industry and academia who help define standards.
Object Management Group creates industry-driven specifications to reduce the software costs of developing, deploying, and maintaining space systems. Increasing interoperability not only reduces the costs through competitive industry offerings, but increases the resiliency of space systems that are relied on for critical health, safety, and defense applications.

OMG is hosting a half-day event for software architects, system architects and systems engineers to learn more about the revolution in space and the role of standards in designing, developing and exploiting satellite systems for the space-based enterprise.

AGENDA
time
presentation
13:00 - 13:10
Introduction and Welcome - Object Management Group - Space Task Force
Brad Kizzort, Chief Technologist, OS/COMET Product Group, Peraton, Inc., Chair, OMG Space TF

13:10 -13:30
Enterprise Keynote: Standards for the Space Enterprise
Dan Smith,Systems Architect, NASA Goddard Space Flight Center
13:30 - 14:45
Panel: Specifications to Support the Space Enterprise - including an XML Telemetric and Command Exchange™ (XTCE™) tool demo.
Moderator: Luis Rodriguez, Solutions Architect, Amergint Technologies, Chair, OMG Space TF
Afsheen Khan, Systems Engineer at NOAA, GOES-R satellite series
Dave Overeem, Systems Engineer at Boeing
Justin Boss, Senior Manager at Kratos Defense Federal Solutions Group
Andre Downer, Telemetry Systems Engineer, L3 Technologies
14:45 - 15:00
Refreshment Break
15:00 - 15:30

Ground Keynote 1: Providing the Infrastructure to Build a CubeSat Revolution
Shayn Hawthorne, Senior Manager Amazon Web Services

A fun and interesting look at how AWS Ground Station worked backwards from our customers to build a Ground Station as a Service (GSaaS). By obsessing on our customers we focused on building secure and reliable ground station services that deliver the scalability and velocity our global customers need to focus on what they do best: innovating and disrupting space. AWS Ground Station will democratize space and support our customers as they build a CubeSat Revolution.

15:30 - 16:00

Ground Keynote 2: Better Together: The Standards Enabling a CubeSat Revolution
Katherine D. Monson, KSAT USA at Kongsberg Satellite Services

With dozens of constellations of small satellites on orbit, the value of open, standardized platforms is clear. In a capital-intensive industry, it is crucial to leverage benefits of economy of scale in both hardware and expertise. This keynote will review the evolution of the CubeSat Revolutions, focusing on the standards in spectrum usage, component availability, and communications support that continue to enable rapid industry growth through convergence on shared platforms.

16:00 - 17:00
Panel: Ground Access to Thousands of Space Assets
Moderator: Brad Kizzort, Chief Technologist, OS/COMET Product Group, Peraton, Inc., Chair, OMG Space TF
Rob Andzik, President, Amergint Technologies,
Eric Ogren, Principal Software Architect, Kratos RT Logic
Shayn Hawthorne, Senior Manager, Amazon Web Services
Katherine D. Monson, KSAT USA at Kongsberg Satellite Services
17:00
Closing Comments
Brad Kizzort, Chief Technologist, OS/COMET Product Group, Peraton, Inc.

---