OMG Certified UML Professional 2™ (OCUP 2™):
Study Material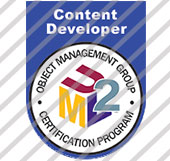 How should you study for the OCUP 2 exams? There are two approaches, although a combination would probably work well. Many candidates will take a course from one of the providers listed below - The authors have collected information and written exercises that will prepare you for your examination as they instill the knowledge and skills that will make you stand out as a job candidate, or UML model developer or team leader. The alternative approach is to study from the primary references our authors used when they wrote the OCUP 2 exams. The bulleted list just below will take you to the pages that link to the articles and UML specification document (free to download) that our authors used. 
Advanced Reference List (coming soon!) 
To have your publication or course listed on this page, email your request to certificationinfo@omg.org. Listing is free, but not automatic. 
*The special logo futured above identifies training courses and study materials written by the same experts who wrote the OCUP 2 exams.
---
BOOKs: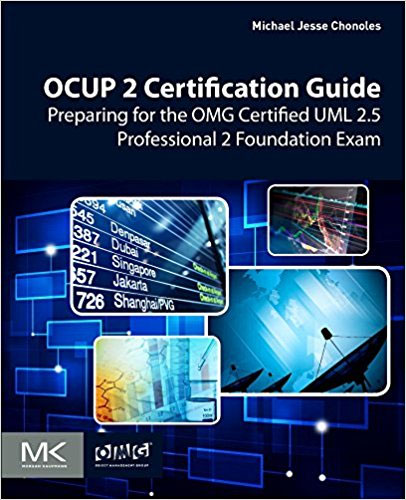 OCUP 2 Certification Guide: Preparing for the OMG Certified UML 2.5 Professional 2 Foundation Exam both teaches UML® 2.5 and prepares candidates to become certified. UML® (Unified Modeling Language) is the most popular graphical language used by software analysts, designers, and developers to model, visualize, communicate, test, and document systems under development. UML® 2.5 has recently been released, and with it a new certification program for practitioners to enhance their current or future career opportunities. There are three exam levels: Foundation, Intermediate, and Advanced. The exam covered in this book, Foundation, is a prerequisite for the higher levels.
Author Michael Jesse Chonoles is a lead participant in the current OCUP 2 program—not only in writing and reviewing all the questions, but also in designing the goals of the program. This book distills his experience in modeling, mentoring, and training. Because UML® is a sophisticated language, with 13 diagram types, capable of modeling any type of modern software system, it takes users some time to become proficient. This effective resource will explain the material in the Foundation exam and includes many practice questions for the candidate, including sample problems similar to those found in the exam, and detailed explanations of why correct answers are correct and why wrong answers are wrong.
Written to prepare candidates for the OCUP 2 Foundation level exam while they learn UML®
Illustrated with UML® diagrams to clarify every concept and technique
Offers hints for studying and test-taking based on the specific nature and structure of the Foundation Level exam
Includes practice exam material, sample questions and exercises, warnings, tips, and points to remember throughout
---
Training:
---

camunda services GmbH
Zossener Str. 55, 10961 Berlin, Germany
email: 
info@camunda.com
website: 
http://www.camunda.com

Check our website for details and training dates: http://www.camunda.com/consulting/ 
---

NobleProg Limited
12 Hallmark Trading Estate
Fourth Way, Wembley
HA9 0LB, London
United Kingdom
Email: 
training@nobleprog.com
Telephone: +44207 558 8274

NobleProg provides:
On-site training (Europe, North America, East Asia, Middle East)
Online instructor-led courses (World Wide)
Exam preparation and other UML courses
UML Consultancy
Our exam preparation courses explain the theory as well as practical examples of the concepts. We cover all levels from Foundation to Advanced.
Europe
http://www.nobleprog.co.uk/ocup/training 
http://www.nobleprog.de/ocup-schulungen 
http://www.nobleprog.pl/szkolenia-ocup 

Middle East
http://www.nobleprog.ae/ocup/training 

North America
http://www.nobleprog.ca/ocup-training-courses 
http://www.nobleprog.us/ocup-training-courses 

China
http://www.nobleprog.cn/en/ocup/training 
India
https://www.nobleprog.in/ocup/training-courses
---

oose Innovative Informatik eG
Kontorhaus Montblanc
Schulterblatt 36
20357 Hamburg
Germany
Contact: Luba Glage
Phone: +49 (40) 414250-0
email: 
luba.glage@oose.de

All oose training is presented in German.
---

RedPill – trainings IT consulting 
ul. Warchalowskiego 9 lok. 83, 02-776 
Warszawa, Poland 
tel. +48 22 226 34 08 
fax: +48 22 486 97 22 
e-mail: 
info@redpill.com.pl
RedPill offers on-site training in Poland:
preparation for OCUP 2 Foundation exam
other courses on modeling in UML.
Open training sessions are provided in Warsaw. Closed sessions can be organized at any location in Poland.
See our website http://www.redpill.com.pl/szkolenia/uml for detailed training programmes (in Polish).
---
For more information or questions about the OMG Certification Program, contact  certificationinfo@omg.org.
OCUP, OCRES, OCEB and OCSMP are joint programs of the OMG and the UML Technology Institute (UTI).