---
Book:
OCEB 2 Certification Guide, 2nd Edition - Business Process Management- Fundamental Level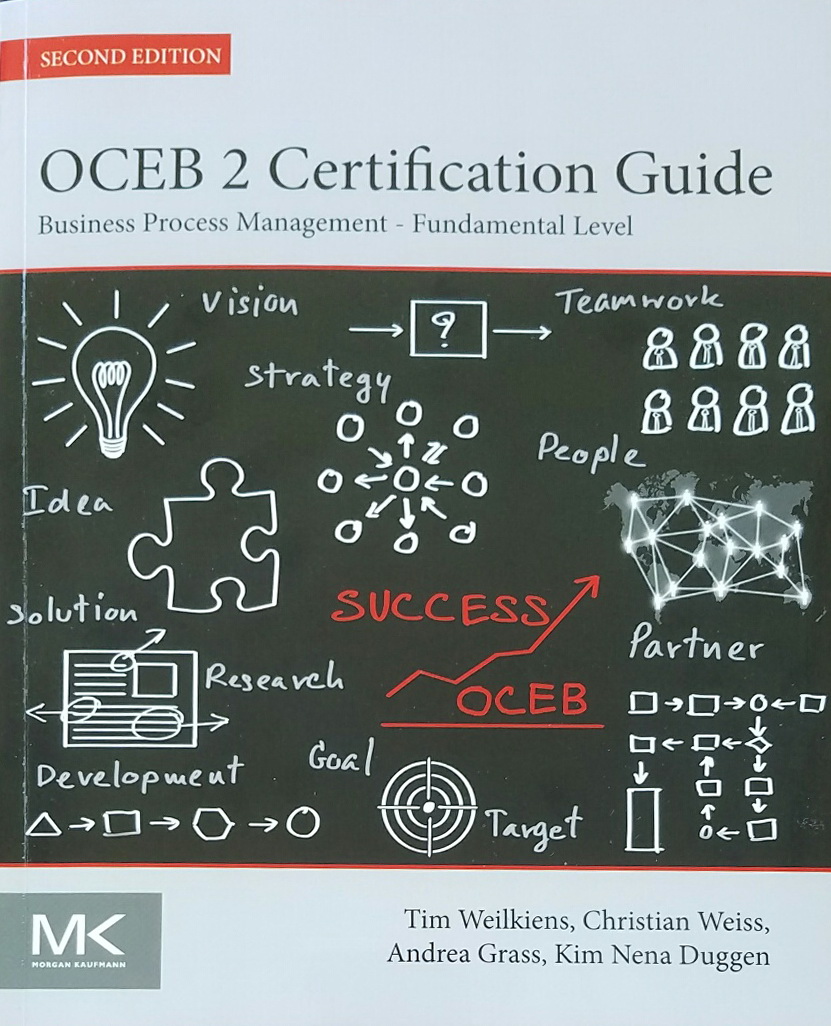 Tim Weilkiens- Elsevier, 2016 [ISBN- 978-0128053522]
This book, written by the authors of the original OCEB Certification Guide and a contributor to the OCEB 2 examination itself, has been updated for the OCEB 2 Fundamental exam and is available in either print or electronic format. Besides the usual sources, this book can be ordered from the OMG reading room directly from Elsevier. Use the discount code found at the top of the listings section (scroll up in your browser) for OMG's special discount pricing. The original German edition of this book may still be ordered from the amazon.de website.
Training:
camunda provides consulting and training around BPM.
Customer Statement: "The OCEB training by camunda has been a very helpful preparation: not only did we pass the exam but we also gained new insights into the fundamentals of process management. The training was rounded off by good materials and a pleasant workshop atmosphere." (Oliver Hackert, IT Managing Director, Eurofins Information Systems GmbH)

We provide OCEB-training for all levels. Check our website for details and training dates: http://www.camunda.com/consulting/

DUX Diligens promotes the adoption of transformation, innovation and IT best practices such as BPM, Enterprise Architecture, GRC, IT Governance, ITSM, SCARM Lateral thinking, HIFFi and TRIZ. We work with the world's most relevant certification organizations to offer relevant training and advisory services (OMG, The Open Group, ISACA, APMG, VMEdu, De Bono and others).

Training: OCEB 2 Fundamental Level
OnSite courses in all countries in Latin America.
México:
Av. Insurgentes Sur 1377 Piso 7. Insurgentes Mixcoac 03920, D.F. México
Tel: (+52) 55- 5524 3171
Contact: Gaspar Aguilar gaspar.aguilar@duxdiligens.com

Bogotá:
Cr 15 No. 119-43, Of. 304 Bogotá, Colombia
Tel: +571 5237128 +571 7458649 M: +57 317 4296264
Contact: Luis Farley Ortiz farley.ortiz@duxdiligens.com
Offices in México DF, San José, Bogotá, Santiago, Buenos Aires.
Name of Course: Curso en Fundamentos BPM
Courses will focus on BPM and are taught in spanish, but student's material and exam will be in english. Students will use OCEB Certification Guide: Business Process Management - Fundamental Level as their guide.
Course listings: Click here.

NobleProg provides:
On-site training (Europe, North America, China, Middle East)
Online instructor-led courses (World Wide)
Exam preparation and other BPM courses
BPM Consultancy
Our exam preparation courses explain the theory as well as practical examples of the concepts. We cover all business levels from Fundamentals to Business Advanced.
Europe
http://www.nobleprog.co.uk/oceb/training
http://www.nobleprog.de/oceb-schulungen
http://www.nobleprog.pl/szkolenia/oceb

Middle East
http://www.nobleprog.ae/oceb/training

North America
http://www.nobleprog.ca/oceb-training-courses
http://www.nobleprog.us/oceb-training-courses

China
http://www.nobleprog.cn/en/oceb/training
All oose training is presented in German.
Class Listings:

For further information and pricing of Trisotech BPM Training offering, please contact Trisotech at (514) 990-6639 #777 or at BPMTraining@trisotech.com
As a Business Process Center of Excellence, Trisotech offers an exciting and innovative BPM training program. Our training material is clear and concise and our "learn and apply" approach gives you the opportunity to exercise the acquired skills and knowledge through practical exercises at each step of the training.
A full range of OCEB, BPMN, and BMM courses are available. See our BPM Training offering for details.
The Trisotech BPM program is presently offered onsite, bringing the experts and the classroom to you. This convenient and cost-effective format allow you to receive expert training without loosing valuable time away from the office and avoid costly travel expenses.
The courses and material are available either in English or French.
As one of the creators and contributing authors to OCEB, visumpoint is in a unique position to provide comprehensive training across the suite of exams. The visumpoint OCEB training Program offers full coverage of exam material, focusing on the key areas that must be understood to pass the exam. The course is offered in two delivery formats: On-Demand Web-Based (Online) and Onsite.

Visumpoint currently offers training for both the Fundamental and Business Intermediate exams. With a 100% pass rate and average score of 87%, Visumpoint's OCEB training programs have helped students from around the world, representing nine different countries, pass the OCEB exams. Offered in English and Japanese, this training course has been used globally by Fortune 100 companies for "Train the Trainer" programs.
On-Demand, Web-Based Training
Visumpoint's On-Demand, Web-Based training program is our most popular because it enables the student to take control of his or her learning. Our self-paced online course combines text, audio, animation, graphics and interactive quizzes for a convenient yet comprehensive e-learning experience.
The course includes access to the online material for three months as well as a voucher for the exam ($200 value). In addition, we provide students with a printed and bound copy of all the slides.
Onsite Training
Companies that are interested in training and certifying six or more employees should consider the Onsite training. This 3 day instructor-led course will be taught by a BPM expert in the comfort of your own facility. Onsite training includes access to the online material for two months as well as a voucher for the exam ($200 value). Students will receive a printed and bound copy of all slides.