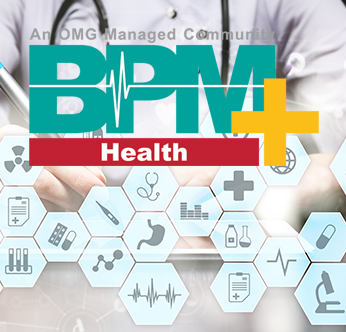 DATE: Wednesday & Thursday, September 16 - 17, 2020
TIME: 9:00 am - 5:00 pm
PLACE: Hyatt Regency San Francisco Airport, 1333 Old Bayshore Hwy, Burlingame, CA 94010
COST: $249 (registration required)
JUMPSTART: BPM+ Jumpstart optional add-on Tuesday, September 15, 2020
CONTACT: info@omg.org

Business Process Management for Healthcare
(BPM+ Health) Industry Workshop
Clinical healthcare providers have been challenged to leverage and disseminate evidence-based best practices at the point of care and serve an increasingly mobile patient population as it navigates among sites and institutions of care.
BPM+ Health™ is addressing these concerns head-on by establishing a community of practice based upon the use of open, standards-based notations (brought together under the umbrella of a style guide) which allows for all types of health organizations, professional societies, and vendors to document their care pathways and workflows so that they are shareable, discoverable, and in the future can be computer-consumable (computable). This approach results in guidelines that have been demonstrated to be more accurately expressed, more internally consistent, and more consumable than paper or pdf-style counterparts.
BPM+ Health goals:
Develop best practices around modeling and sharing clinical pathways, clinical guidelines, and other healthcare knowledge;
Promote the use of standards such as BPMN, DMN, and CMMN to produce deliverables to maximize their usefulness and shareability and to promote their adoption;
Cultivate a knowledge ecosystem devoted to improving national and international health by leveraging open and available industry standards to remove barriers to sharing knowledge;
Improve the precision and compliance with best practices, resulting in better implementations;
Seek collaboration with other standards developing organizations in the Healthcare industry.
This two-day event will feature several activities, including:
Role of BPM+ in clinical quality improvement
Presentations discussing findings from early trials using guidelines based on BPM+ standards
Adoption approaches about how to leverage BPM+ content in clinical systems
Launching BPM+ initiatives within your organization and the business case for doing so
Establishment of working groups within the community-of-practice to share experiences and priorities with peer organizations
Optional Jumpstart/Overview of BPM+ Health and how it is used (Tuesday afternoon from 2:00 pm - 6:00 pm) The BPM+ Health Workshop content assumes a basic understanding of the BPM+ community and underlying standards and core artifacts. New community members or interested parties that do not have this background are strongly encouraged to attend the BPM+ Jumpstart, which was designed specifically as an "on-ramp" to help acclimate attendees to the community. Jumpstart add-on is $50. BPM+ Health members with paid organizational memberships are welcome to attend the BPM+ Jumpstart at no cost. OMG Members attending the full TC week are also free to attend.
AGENDA to come
---
Industry Supporters