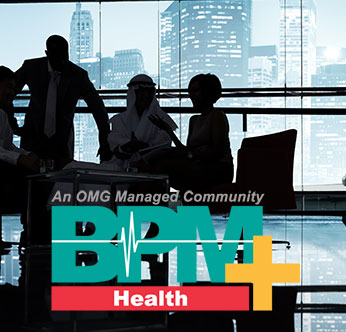 DATE: Thursday, December 12, 2019
TIME: 9:00 pm - 5:00 pm
PLACE:Hyatt Regency Long Beach Hotel, 200 S Pine Ave., Long Beach, CA 90802 (hotel info)
COST: $149
CONTACT: info@omg.org


BPM+ Health WORkGROUP SESSIONS
At the BPM+ Health Community Launch in Nasvhille, BPM+ Health stakeholders split into four workgroups to develop goals and road maps for their future work. The conversation continues in Long Beach, CA with face-to-face workgroup sessions to further the work begun in September.
Participation is open to all interested parties, but either attendance at the BPM+ Health Jumpstart on Wednesday, December 11, or prior engagement is BPM+ Health is strongly recommended.
BPM+ Health Workgroups MEETING IN lONG BEACH
Institutional Adoption
This sub-community convenes healthcare provider and payer organizations that are consumers of care pathways and guidelines, and whom are adopting them for implementation within their care institutions. This would include health systems, academic medical centers, group practices, and so on.
Methodology
This sub-community is focused on the expression languages that are used to define care pathways, and on the techniques, style guidance, and best-practices for doing the modeling work. Interested parties would include professional modelers, consultants, BPM+ tool vendors, etc.
Learn more about the BPM+ Health Workgroups and sign up to their mailing list(s) here.
BPM+ Health Jumpstart: Working group registrants new to the BPM+ Health Community are welcome to attend the BPM+ Health Jumpstart on Wednesday afternoon from 2pm - 6pm, with an Introduction to BPM+ Health, a primer on BPMN, CMMN, and DMN Modeling Languages, an overview of the Field Guide to Sharable Clinical Pathways, and a review and walkthrough of sample BPM-based Clinical Practice Guidelines -- followed by the OMG networking reception from 6pm - 8pm. Come see why clinical professional societies, healthcare organizations, and the vendor community are engaging in this new effort! Attendance at the jumpstart event is free for workgroup registrants. Register for both the working group session and/or the BPM+ Health Jumpstart using the forms below.

WORKGROUP Sessions REGISTRATion Register for Jumpstart only
---
Industry Supporters
Founding Members