Model-Based Engineering, Automation and IoT in Smart Manufacturing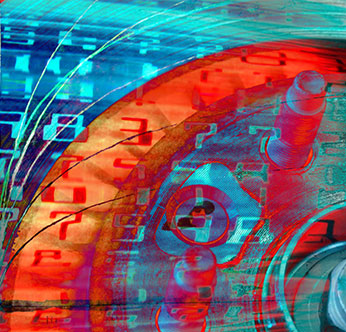 DATE: Wednesday, December 6, 2017
TIME: 9:00 am – 6:00 pm
PLACE: Hyatt Regency Hotel, Burlingame, CA, USA
COST: $99
CONTACT: info@omg.org
What Are the New Requirements for IT Standards to Enable Smart Manufacturing?
The manufacturing industry is being challenged by digital transformation. The Internet of Things (IoT) and Model-Based Engineering (MBE) will play a crucial role in the design, fabrication and maintenance of complex products. MBE will be critical in understanding the underlying systems' complexity and connecting the required modeling methodologies and tools.
The OMG Information Day on "Model-Based Engineering, Automation and IoT in Smart Manufacturing" will focus on the requirements for standards that Industrie 4.0 and Smart Manufacturing strategies bring to the data infrastructure as manufacturing transforms from building complex products to complete systems.
The concepts of Industrie 4.0 and Smart Manufacturing will enable the development and production of complex systems (sometimes called cyber-physical systems). They will also raise new challenges for interoperability of the IT infrastructure needed to support this evolution. The added complexity will increasingly require the use of Model-Based Engineering (MBE) methods and technologies to design, build and manage the interconnected systems. The specification of IT standards and the development of MBE tools and methodologies is a kind of pre-competitive grease to support manufacturing collaboration and coopetition.
The role of Object Management Group® (OMG®), and specifically the Manufacturing Technology and Industrial Systems Domain Task Force (ManTIS DTF), is to foster the development of technologies and standards in support of interoperability of manufacturing systems. ManTIS closely cooperates in this regard with the International Council on Systems Engineering (INCOSE), GfSE (the German chapter of INCOSE), and the Systems Engineering Domain Special Interest Group (SE DSIG) of the OMG.
The objective of this full-day event is to discuss joint interests between formerly disconnected organizations in this area and to initiate activities to solve our common problems. Attendees will learn about developments and strategies in support of complex system manufacturing and will help formulate requirements in conjunction with key industrial players, organizations and programs such as the Industrial Internet Consortium® (IIC™), GfSE, and the Plattform Industrie 4.0 (PI40). In a concluding panel  we will discuss the need for action and joint activities.
Throughout this day-long event you will find ample opportunities to meet and network with speakers, panelists, task force chairs and your fellow attendees during refreshment breaks, luncheon and an evening cocktail reception at the hotel, all included in the registration fee.
Links to presentations
Moving Smart Manufacturing Forward: IIC Testbeds and OMG Standards -
Dr. Richard Soley, Chairman & CEO, Object Management Group (OMG), Executive Director of the Industrial sentations
Industrie 4.0 Overview -
Erich Clauer, Vice President, Head of Industry Standards & Open Source, SAP 

IIC Smart Factory Task Group Overview -
Calvin Smith, Director & Head of IoT Partner Engineering, Wipro Digital
Modernizing your Industrial Manufacturing Network -- The IIC Time Sensitive Network Testbed - 
Paul Didier, Internet of Things Solution Architect at Cisco
Asset Model Engineering and Plug & Work in the Smart Factory Web using the IEC standards AutomationML and OPC UA -
Kym Watson, Deputy Head of Information Management and Production Control Department, Fraunhofer Institute of Optronics, System Technologies and Image Exploitation IOSB
Spinning a Standards-Based Digital Thread for Smart Manufacturing - 
Allison Barnard Feeney, Smart Manufacturing Operations Planning and Control Program Manager at NIST
OMG Standards at Work in the IIoT- 
Larry Johnson, Vice President and Technical Director, OMG
Future Directions of SysML v2 - 
Sanford Friedenthal, MBSE Consultant 

Data-Distribution Service (DDS) – the IIoT Connectivity Standard - 
Dr. Gerardo Pardo-Castellote, CTO of Real Time Innovations (RTI) and co-chair of the DDS PSIG
Past and future of OMG's Manufacturing Technology and Industrial Systems (ManTIS) Task Force - 
Uwe Kaufmann, CEO ModelAlchemy Consulting , Co-Chair of the OMG ManTIS Domain Task Force
prostep ivip: Smart Engineering Meets Smart Production - 
Dr. Alain Pfouga, Managing Director, prostep ivip 

Digital Transformation and the Need for Model-Based Systems Engineering - 
Sven-Olaf Schulze, GfSE Gesellschaft für Systems Engineering, German Chapter of INCOSE
From Concept to Manufacturing: Transforming Product Creation in the Connected and Cognitive Era - 
Graham Bleakley, IBM IoT Watson, OMG UAF Co-Chair 

Bridging the Digital & Physical Worlds: IoT & Model-Based Approaches in Manufacturing - 
Matthew Hause, PTC, OMG UAF Co-Chair
A Joint Presentation of the Object Management Group and the Industrial Internet Consortium

Join our Smart Manufacturing mailing list to receive news and updates from OMG.