Hotel Information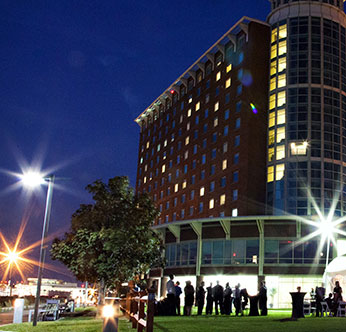 Hyatt Regency Boston Harbor Hotel
101 Harborside Drive
Boston, MA 02128 USA
Tel: +1 617 568 1234
ROOM RATES: 
Single Occupancy: USD$269.00
(plus 14.45% state & local taxes)
On Line Reservations: HERE
Boston area hotels are charging over $450 per night!
Discount Room Reservations Deadline: WHILE SUPPLIES LAST
NOTICE TO ALL ATTENDEES! We would like to make you aware of  a company called Exhibition Hotel Management calling from (888) 511-7396. They are contacting member companies letting them know that said companies are on a list of exhibitors for OMG's Technical Meeting in Boston on 6/18. This organization has no affiliation in any way with OMG, nor the Hyatt Boston Harbor Hotel.  If you do receive a call, please dispatch them accordingly.
---
Additional Hotel Information: 
Click HERE  ( DO NOT USE THIS LINK TO MAKE RESERVATIONS )
---
Airline and Car Rental Discounts:
For airline and car rental information and discounts, please call Travel Solutions, Inc., an American Express Travel representative at +1-800-878-6664 (USA and Canada only) or +1-508-366-2678 or you may fax them at +1-508-366-1386.