Data Residency: Status, Challenges and Standards
Tutorial and Roundtable Discussion
DATE: Tuesday, March 20, 2018
TIME: 9:00am – 12:00pm (tutorial)
12:00pm - 1:00pm (lunch roundtable)
1:00pm - 4:00pm(working group session)
PLACE: Hyatt Regency Reston, Reston, VA, USA
COST: Tutorial is complimentary; $49 to include lunch roundtable; $99 for full-day (Registration required)
CONTACT: info@omg.org
TWO REGISTRATION OPTIONS: Tutorial only OR Tutorial with option to add lunch and working group session
TUTORIAL ONLY REGISTRATION
FULL EVENT REGISTRATION
Join the Discussion on Data Residency
As data is increasingly accessed and shared across geographic boundaries, a growing web of conflicting laws and regulations dictate where data can be transferred, stored, and shared, and how it is protected. The OMG®, in collaboration with the Cloud Standards Customer Council™ (CSCC™) recently completed a significant effort to analyze and document the challenges posed by data residency, and to propose a Data Residency Maturity Model to guide data owners and custodians.
This special tutorial, lunch roundtable and working group session in Reston aims to inform the audience about this work and kick off discussions of a roadmap toward resolving the issues by developing or updating appropriate standards.
We will review:
the definition and scope of data residency,
the types of data that present risks to their owners and custodians,
the diversity of laws and regulations around the world,
examples of actual incidents that illustrate the potential impact,
the standards that might be evolved (or created) to help manage the issue,
the Data Residency Maturity Model.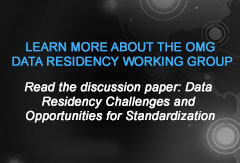 During the mid-morning break and lunch roundtable, you will find opportunities to meet the speakers and other attendees, and discuss how you approach data residency in your respective organizations.
An afternoon working session will extend the discussion between representatives from various countries and organizations on the future of data residency challenges (will they get easier, or harder?) and the actions that could be taken to mitigate the risks. We will brainstorm a list of requirements for a standard to formally capture the meaning of laws and regulations, in order to generate an OMG Request for Proposals for such a specification.