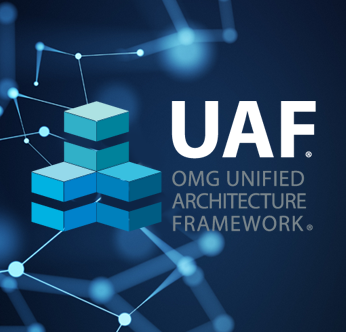 Introduction to 'Unified Architecture Framework® (UAF®)
Overview
The Unified Architecture Framework® (UAF®) is based on the Unified Modeling Language™ (UML®), Systems Modeling Language™ (SysML®), the Unified Profile for the U.S. Department of Defense's Architecture Framework (DoDAF) and the U.K.'s Ministry of Defence's Architecture Framework (MoDAF™) (UPDM™) and the North Atlantic Treaty Organization's (NATO) Architecture Framework (NAF). When these military requirements were combined with business sector requirements (90% of concepts and themes captured in the military frameworks are equally applicable in the commercial domains), the UAF was born which serves both commercial and military interests.
Participants include a broad spectrum of parties covering industry, tool vendors, end users and representatives of the DoD, MoD, and NATO.
UAF defines ways of representing an enterprise architecture that enables stakeholders to focus on specific areas of interest in the enterprise while retaining sight of the big picture. UAF meets the specific business, operational and systems-of-systems integration needs of commercial and industrial enterprises as well as defense organizations.
Value Proposition
As a result of increasing complexity and rising costs, it is important to ensure that systems that are being developed can talk to each other and meet the overarching capabilities that they were intended to achieve. UAF architecture models provide a means to develop an understanding of the complex relationships that exist between organizations, systems, and systems-of-systems and enable the analysis of these systems to ensure that they meet the expectations of their user community. UAF provides a set of rules to enable users to create consistent enterprise architectures (as models) based on generic enterprise and system concepts with rich semantics. These models then become the repositories from which various views can be extracted.