Cloud Working Group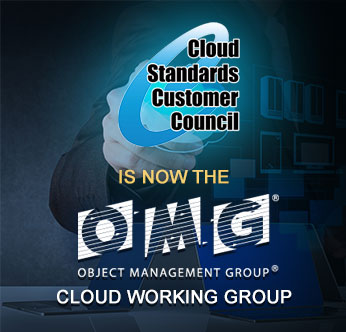 Mission:
The OMG Cloud Working Group publishes vendor-neutral guidance on important considerations for cloud computing adoption, highlighting standards, opportunities for standardization, cloud customer requirements, and best practices to foster an ecosystem of open, standards-based cloud computing technologies.
The Cloud Working Group or "CWG" takes over the mission of the Cloud Standards Customer Council™ (CSCC™), an OMG-managed program that launched in 2011 and published 28 deliverables over the course of its operation. The CWG will maintain and update these papers. For more information, watch the webinar, Introducing the OMG Cloud Working Group.
Charter:
Publish OMG discussion papers and reference architectures
Reinforce cloud standards, standards of practice, and opportunities for standardization
Promote the discussion papers with OMG liaisons, standards development organizations, open source communities, and industry consortia
Collaborate with other OMG Task Forces and Working Groups
Liaise with non-OMG organizations as appropriate
Concept of Operation: 
The Chairs of the CWG are OMG members that publish the roadmap and initiate discussion papers. The Chairs use the CWG email list to seek contributors from the Working Group. This is an open and member-driven collaborative process. Work is largely completed over teleconference and online document sharing. The papers are submitted to the OMG Middleware and Related Services (MARS) Task Force for review and publication as OMG discussion papers. The CWG may convene face-to-face meetings during OMG's Technical Meeting, once a quarter; in which case a registration fee will apply.
Get Involved:
If you have an idea for a discussion paper, please contact the Chairs at cloud-chair@omg.org. Interested in contributing? Join the CWG here. Once you do so, you will start receiving email alerts. Participation in the OMG Cloud Working Group does not require an OMG membership fee, but OMG membership is required to join OMG standards-developing Task Forces. For details on OMG membership, please visit www.omg.org/membership or contact an OMG Account Representative.