Cloud Customer Architecture for Enterprise Social Collaboration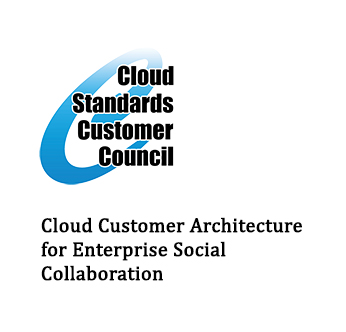 Cloud Customer Architecture for Enterprise Social Collaboration describes how to leverage social collaboration tools to harness ideas, exchange information, and increase the speed of innovation across the business.
This cloud reference architecture was written for enterprise Information Technology (IT) and business decision makers to assist in understanding the technical capabilities and integration requirements necessary to deliver Enterprise Social Collaboration solutions. It is a vendor-neutral and best practices approach to describe the flows and relationships between business capabilities, functional areas, and architectural components delivered as a cloud solution.
This paper discusses how social collaboration solutions can be applied to different industries and aligned with key business initiatives.
This paper was published by the Cloud Standards Customer Council, a program launched by the OMG in 2011 to advance the adoption of cloud computing. This work is now under the purview of the OMG Cloud Working Group. Copyright is owned by OMG. Visit www.omg.org/cloud to learn more.