Security for Cloud Computing: 10 Steps to Ensure Success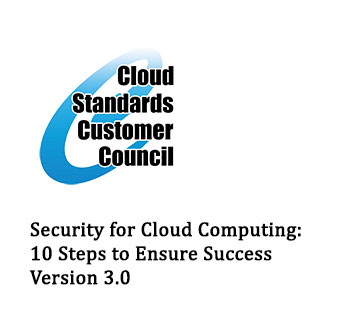 Security for Cloud Computing: 10 Steps to Ensure Success provides a practical reference to help enterprise information technology (IT) and business decision makers analyze the security implications of cloud computing on their business.
The guide includes a list of ten steps designed to help decision makers evaluate and compare security and privacy offerings from different cloud providers in key areas, covering:
Security and privacy challenges pertinent to cloud computing and considerations that organizations should weigh when migrating data, applications, and infrastructure
Threats, technology risks, and safeguards for cloud computing environments and the insight needed to make informed IT decisions on their treatment
A Cloud Security Assessment to assess the security capabilities of cloud providers
Version 3.0 introduces new and updated security standards, worldwide privacy regulations, and stresses the importance of including security in continuous delivery and deployment approaches, among other things.
This paper was published by the Cloud Standards Customer Council, a program launched by the OMG in 2011 to advance the adoption of cloud computing. This work is now under the purview of the OMG Cloud Working Group. Copyright is owned by OMG. Visit www.omg.org/cloud to learn more.