Best Practices for Developing and Growing a Cloud-Enabled Workforce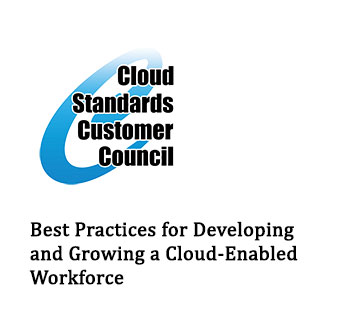 The aim of this guide is to provide a practical reference to assist enterprise Information Technology (IT) managers and business decision makers with best practices for developing and growing a "cloud-enabled" next generation IT workforce.
Cloud computing and related technologies like blockchain, data science, and AI are transforming the nature of IT, resulting in skill shortages in some domains and staffing surpluses in others. Demand is increasing for cloud-knowledgeable solution IT architects, operations staff, and DevSecOps teams to apply cloud services and related technologies to these challenges for increased agility and efficiency.
Now that cloud computing is a mainstream initiative within most enterprises and large organizations, it is an opportune time to embrace training and knowledge-sharing.
This paper outlines:
the business reasons for developing a skilled cloud-enabled workforce
a strategic framework for meeting today's and tomorrow's skill needs
best practices for cloud skills training, employee development and career growth
a survey of available cloud training and certification programs
This paper was published by the Cloud Standards Customer Council, a program launched by the OMG in 2011 to advance the adoption of cloud computing. This work is now under the purview of the OMG Cloud Working Group. Copyright is owned by OMG. Visit www.omg.org/cloud to learn more.